Cool Gifts for Biology Nerds: Biologists, Teachers & Students Included
The Best Biology Themed Gifts You can Buy Online, Lab Safety Goggles Not Included
A unique list of fun science gifts you can buy online, specially curated for the adorable biology geek in your life. We have done all the meticulous research for you. No more need to look under the microscope, all that is left to do is read, click and buy.
It is that time of the year again, and once again you just cannot come up with a half-decent cool biology gift idea plus you still have to do laundry, go to the grocery, watch Netflix… and time is running out!
Aside from the 17 products on our list, we have also included 4 varieties for each item, all totaling to 85 science-themed gift ideas. Have fun!
Not a lot of enamel pins will turn peoples' heads like this controversial 1.5-inch yellow Dissected Cat Enamel Pin by LITTLExWOUNDS. It has two nails at the back and is made of hard enamel with black nickel plating.
Most will smile upon seeing it, others might chuckle, but some will definitely get offended. After all, it is a dead cat with its entrails hanging in the open. But the "in the name of science" explanation can always be used to get out of hairy situations.
If your recipient is adventurous and likes to live the laboratory life on the wild side, this pin might just do the trick for them; just make sure they are good at making scientific excuses.
More anatomy themed enamel pins:
Show off the beauty of Venus' anatomy in this black and silver-colored 40mm hard enamel pin, designed to captivate fellow biology geeks especially in the dark as it glows and proudly displays her upper skeletal frame. 
Science and romance in one nifty little package made for the hopeless but logical romantic lab coat in your life. This 1.5 inches anatomically correct heart is made of black nickel-plated metal and enamel.
It doesn't get nerdier than this 25mm brain pin made of coined copper and enamel. An ideal gift idea for science teachers and students who like to flex their intellectual muscles around the campus.
This Animal-lover approved rat skeleton stainless steel enamel pin measures 1.9 x 2 inches. It was taken from watercolor painting and makes for a creepy but still cute gift for people who can't get enough lab rats.
Tardigrade Microbiology Plush
For those who are in need of a trustworthy emotionless lab companion, there is no gift better than the plush version of the tardigrade, nature's most indestructible creature.
The linen toy is filled with polyester fiber and perfectly embodies the odd but still cute looking water bear that any biology nerd will instantly recognize. It is about 10 inches long and features a plastic nose and claws.
Although it is not as immortal-tough as the real thing who can even survive the harsh conditions of deep space and extreme radiation, this little fellow can definitely withstand the usual hug, pinch, and squeeze of any normal human being.
More biology-related plush toys and collectibles:
Marine biologists and sea slug fans are going to get a kick out of this magnificent 100% merino wool sculpture. The wool needle felted nudibranch is about 3-4 inches long and has all the little colorful cerata you'll ever need in this lifetime.
A 5 1/2 inch tall wool blend felt deer with all the essential organs inside its belly, what else could anyone ask for?  This hand-sewn creation takes a few days to prepare and features a gauge jewelry wire inside its legs for extra bendability.
We have got just the perfect buddy for those who are always geeking-out about human anatomy. This adorable award-winning 7-inch tall scientific skin plushie also comes with a nerdy skin cancer self-exam and skin facts info.
A lot of people associate microorganisms with negativity like disease and bacteria, but not for the open-minded biologist. Spread the love with some tiny colorful microbes made with baby yarn and felt, sure to bring a smile on any biology students and teachers alike.
Bet you did not know there was a cool board game about birds.
Say hello to Wingspan by Stonemaier Games, the ideal gift for those who are into birds and strategic board games. It can be played solo or up to 5 players and takes 40-70 minutes of competitive bird collecting gameplay.
The artwork is just simply gorgeous, from the outer box to the birdfeeder dice tower, all the way to the individual bird cards and all the extra accessories included; everything is just top-notch.
With over hundreds of bird cards to discover, everyone will definitely have a fun time filling up their imaginary aviaries.
More biology-related board games:
Gather all your plant-loving tree-hugging friends for a fun game of Photosynthesis. A strategy board game that involves cultivating seeds, caring for trees in the entirety of their life cycle and growing your very own forest.
Learn more about cells converting genes into proteins with Peptide, more enjoyable than biology class and fun for kids and adults alike. This educational card game is engaging and uses accurate science.
Take being an animal lover to a whole new level by creating and evolving 12000 different species. With cool abilities bundled with unique traits and a bunch of tokens and markers, everyone is sure to enjoy Evolution.
If your language consists of the likes of enzymes, DNA and hormones then you are speaking Cytosis. This biology game is made of pure geeky science, from middle school all the way to college level. 
Create scrumptious mouth-watering bacteria that will make even the cleanest germophobe begging for more with the help of this 3D printed Bacteria Cookie Cutter by McMaster3D.
This item is less than 5 bucks so we recommend you buy at least three (do not be cheap now). It is perfect for people who are on a budget but still need to gift. The cutter can create 4×2 inch cookies and comes in a random color.
For cleaning, be sure to let the recipient know that it can only be hand-washed, to avoid damaging the mold's details.
Microbiology and baking in one dirty-looking but not really dirty cookie cutter package.
More biology themed kitchen items:
This white DNA dough cutter is a foodie biologist must-have, the basic building block of nerdy biscuits and geeky cookies. The 2 x 4 inches helix-shaped plastic mold is intricately designed and is dishwasher safe.
Would you like some cacti and succulents on that dough? Rolling biology style is made easy with this hip 46cm long laser-engraved beechwood rolling pin, just don't forget to add some vegetable or olive oil before using it.
Just as biologists have the need to wear white lab coats when they are feeling all geeky and scientific, the biology doodle apron answers the same requirement in the kitchen. It comes with adjustable ties and is made of polyester.
It is time to bring out the germ-filled cutting board because microbiologists are in the house. This thing is made of tempered glass; easy to clean, scratch-resistant and filled with all sorts of viruses and microorganisms. 
Female recipients who are into botany or just flowers, in general, will thank you from the bottom of their hearts once they get their hands on this beautiful handmade Resin Ring Flower from ForestMagicWithRivka.
What makes this ring special, besides its hip organic look are the materials used to make it; real delicate flowers inside a multicolor resin paired with the highest quality of wood from noble tree species.
This accessory won't give any problems to anyone's skin and conscience since it is hypoallergenic and eco-friendly.
Every biology girl will surely agree that nature-lover sounds a lot better if you put a ring on it.
More botany themed women's accessories:
Get your recipient's ears ready because this pair of earrings brings a whole new meaning to natural beauty. It includes real dried purple heather flowers inside and is available in silver and bronze colors.
Nature lovers will surely appreciate this unique green fashion accessory as a gift. Enclosed inside its 2.9cm round glass globe is a green lichen, complemented by a sparkly sterling silver chain.
For techy female biology enthusiasts, give this gift a try; a one of a kind creation that will protect their phone with natural pressed flower beauty. Not only is it gorgeous and romantic, but it is also properly preserved to stand the test of time.
This is the flowery essence of botany combined with clean fresh fashion in a bangle. A good present for any science lady who appreciates the beauty of nature with a sense of style. Available in 3 different sizes.
The black funny graphic t-shirt says it all! This gift is specifically made for microbiology nerds who love taking those self-centered but beautiful shameless laboratory selfies.
Cell-Fie Biology Shirt by MoonApeTees humorously mixes the "it is all about me" millennial culture with the cell culture in the form of a 100% combed ring-spun cotton tee.
The item is unisex, weighs 4.2 oz and takes 3-5 days to arrive at your doorstep if you are living within North America via Printful.
Look no further for the perfect gift for that funny biology teacher or student who desperately needs their pictures liked, shared and commented on social media sites.
More biology styled clothing items:
Outdoor sports are just not the same without the microbes, lucky for you we have just the perfect purple dress that's brimming with bacteria, made from 90% cotton 10% spandex and features a racerback design on the reverse.
Ever wanted to get one of those "dude, that is so fly!" comment? Now you can with this drosophila (aka fruit fly) tie. The dotted cool blue wonder is 58 inches long and 3.5 inches on the widest spot.
Got some sophisticated hipster nerdy deer on your undies? Better make sure you have one before going to the lab. It is made of 100% polyester, lightweight and has a nice comfortable fit.
Get a chance to observe random peoples' reactions as they stare at your mesmerizing gray scarf, filled with multicolored Petri dishes. An ideal cool geeky accessory for the intelligent fashionista.
The Anatomy of a Flower Art Print
When art crosses paths with botany you know any garden-loving biology enthusiast is in for a treat. Slap The Anatomy of a Flower Art Print (by Rachel Ignotofsky) on any wall and watch people stare with their mouths open in amazement at this 8.5 by 11-inch wonder.
The artwork is printed using an Epson archival pigment ink on an Aurora fine art natural, which is made of 100% cotton rag acid-free matte paper; designed to last longer than most gardens in the neighborhood.
This colorful flower illustration with an artsy twist definitely gets two green thumbs up from us.
More biology-related art prints:
Eccentric biology nerds are sure to appreciate this cool reproduction of an 1896 vintage chameleon x-ray slide. It measures 11.7 by 8.3 inches and is printed on a transparent material film with a beige paper background. 
Save some money when gifting to your beloved science nerd by printing your own animal and cell posters present. It has got that nostalgic feel that will remind you of science class. Available in A3 size pdf format.
A little bit of vintage print, a dash of anatomy illustration and some colorful butterflies and flowers, that is what you get in this 8 x 10 inches upcycled print. A good balance of science, literature, and art.
Here is something for the artsy nerd in your life, minimalist modern art meets bioscience in this bacteriophage deco poster. Printed on Japanese high-quality Epson heavy-weight paper and is available in 7 different sizes.
Circuit Board Microscope Christmas Ornament
People who love biology celebrate Christmas too, did you know? And nothing sets the happy geeky holiday mood better than CircuitBreakerLabs' yellow Circuit Board Microscope Ornament hanging on an old cheap plastic Christmas tree.
Made from a recycled computer circuit board, this piece not only celebrates Christmas and biology but it also pays homage to technology. It is about 2 inches tall, comes with a nice black cord and can be bought as a set of three because we all know that one is never enough.
This piece can also be used as a car decoration or an oversized keychain, a good gift choice for the microscope-loving science nerd in your life.
More biology themed Christmas ornaments:
Go all-natural with your holiday decoration using a transparent Christmas ball with a real pinecone inside. This piece is 3 inches wide and includes approximately 30 mini pinecones inside.

It cannot be white Christmas without white blood cells hanging on your tree like this 2.8-inch hanging ornament.  The item is made of high-quality porcelain material and comes packaged with an adorable red ribbon.
Add a touch of magic into your home with a captivating blue-green butterfly (moduza procis) ornament. The preserved insect is enclosed inside a shatterproof acrylic, pinned into a small piece of cork.
This one is a sure hit for nerdy genetic students and teachers alike. It is made of solid maple hardwood, has the word DNA laser-engraved on the center and measures about 3.5 inches wide and 3/16 inches thick.
Biology 101 Drink Coasters Mats
We present to you Biology 101 Drink Coaster Mats, made by Cute Drinking Coasters. This item features vintage artworks of various plants, insects and birds with a nostalgic science textbook feel.
It is 4 inches in diameter which is enough for the average mug or glass size and is made of ceramic stone that can absorb water more quickly than the typical sandstone material used on most coasters. The bottom part is made of cork for better grip and drop durability.
Pretty much any recipient who owns a table or works on a desk will appreciate this useful and stylish little gift, no experiments needed.
More biology styled coasters:
Let your recipient rediscover the beauty of cells every single time they take a sip and lift off their mug. This gift is ideal for the science nerd you love who just can't stop drinking his coffee, beer or tea.
Are you sick of seeing those mediocre non-science related coasters from your friend's house? Gift them an even more sick set that contains, influenza, ebola, smallpox and of course good old rabies.
For a more futuristic sci-fi feel, these sleek cell coasters will do the trick. Trendy biology professors and students are bound to fall in love with these colorful acrylic set. The seller also offers customization to make it extra special.
Ok, this one is not originally science-related but it looks like a petri dish and reminded us of bacteria, so we just had to add it to the list. Its unique design was formed using a special technique with alcohol ink that creates an interesting layering effect with the clear resin.

Beach Please Real Crab Resin Glow In The Dark Keychain
Looking for a gift for crabby people and marine biology nerds out there? We present Anurains Design's 3-inch long Beach Please Stamped Crab Keychain.
It is made of clear resin, glows in the dark and has a real crab inside. The attachment boldly features the snarky remark "Beach, Please!" and is made of aluminum, so it will not rust or tarnish and will always look brand new until somebody accidentally scratches it.
This item is from Canada and ships within 3 to 5 business days after ordering.
Smooth on the outside and crispy on the inside just the way your recipient likes it.
More biology-related keychains:
Succulent and cactus lovers are not going to be able to stop themselves from squishing this adorable little keychain. This handmade creation is made of acrylic cotton blend is about 10 centimeters tall.
Never thought you would see a DNA inside a bottle did you? Surprise your special science geek as well with this quirky 3.5 cm tall charm. It takes 1-3 days to prepare the item so be sure to order in advance.
Some people are just not satisfied with cells that they currently have, and that's ok because they can always have more like this 4cm animal cell keychain. Handcrafted using paint, polymer clay, wires and everything nice.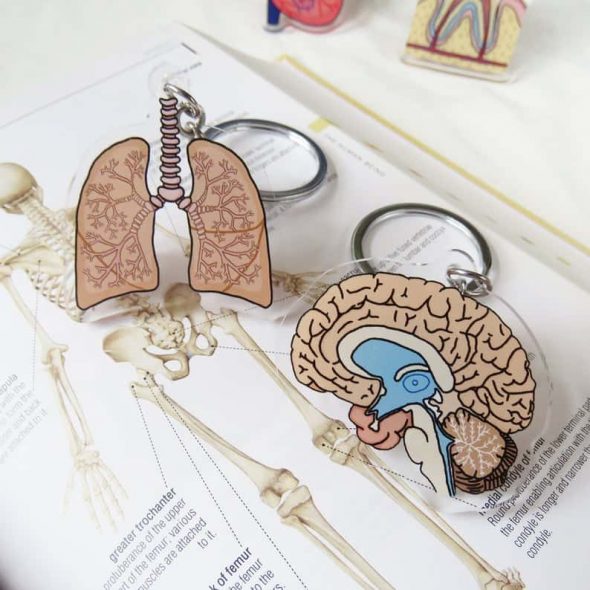 Share a slice of anatomy with your other nerdy science friends by giving them a pair of plastic lung and brain keychains. Each one about 5 cm tall, colored and filled with simplified details. 
The Infectious Disease Colouring Book
It is about time you give the gift of stress relief to that special hardworking biology nerd in your life. Let them color their worries away with The Infectious Disease Colouring Book.
With 35 plus gruesome pages just waiting to be colored and awkwardly stared at, this book is not for the faint of heart. It includes gorgeous illustrations of the likes of leprosy, flesh-eating bacteria and some good old parasitic worms that will undeniably gross out your unsuspecting victi… err recipient.
This one of a kind book is the perfect gag gift you are looking for, a disgusting yet beautiful adult coloring book.
More biology themed coloring books:
Visual learner anatomy students will love this 392 page coloring book, designed to make self study more enjoyable by taking a more tactile and visual approach. This book measures 8.5 x 10.8 inches.
With over 300 illustrations of different animal body parts to shade, this educational book makes for a good supplementary resource for anyone studying animals and is sure to make memorization more engaging and efficient.
Learn more about weeds like their habitat, lores and popular names with the help of this fascinating coloring book. Included are over 45 illustrations of different weeds that are commonly found in the United States. 
If a science geek would have a dream of coloring a book, this would be it! A fun and challenging coloring and activity book for all ages form biology, physics all the way to chemistry (engineering and math included).
Elephant Head DIY Papercraft Cardboard Animal Sculpture
Hunting elephants today brings in a lot of complications not to mention that it is also illegal, but no worries because we now have HatynkaUA's Elephant Head DIY Papercraft Animal Sculpture.
It is made of 100% cardboard and takes about 1 hour to assemble. Upon completion, this trophy sculpture will measure 25x30x18 centimeters and is sure to be the envy of fellow non-hunting zoology geeks.
To hunt or to just build a 3d puzzle that is the question.
Bear in mind that the seller is from Ukraine and the item is made to order so it will roughly take a month to arrive in the US, be sure to plan ahead.
More zoology related sculptures:
Paper has never looked more alive until it got 3d folded into a yellow chameleon sculpture. This item is a DIY kit that includes 44 pieces and once assembled it is ready to sit and stare from the edge of any furniture.
It is about time you go Jurassic with your gift and surprise the dino lover in your life with a fresh pink tyrannosaurus rex head. Made of resin and splashed with a cool layer of matte lacquer finish.
For something that is extremely unique give this shiny black spider sculpture a try. Styled in good old mechanical steampunk style and painted with lacquer coating; simple in appearance but a very interesting piece of art.
Add a little dash of playfulness in your favorite science nerd's life with this wooden rabbit sculpture. The artwork stands about 6 inches tall, can be painted and personalized to your liking and includes movable parts. 
Black Butterfly Wall Clock
Ever heard of the saying time is like a flying black butterfly? No? Well, now you have! Even better you can actually purchase it in the form of the Black Butterfly Wall Clock by ModernClock.
If black is not your recipient's favorite color there is no need to worry since this modern timepiece is available in 23 other colors. The outer body is made of acrylic glass while the inner clock is made of Lucite and measures 29 centimeters in diameter (54 with the butterflies).
This item ships from Poland and takes 12-18 days to get to the US, plenty of time to decide whether you are going to gift it or just keep it for yourself.
More biology themed wall clocks:
Science majors and professors with their busy schedules are always losing track of time, why not give them a hand or rather an x-ray head to help them out. This piece uses a silent non-ticking EZ Quartz sweep mechanism.
This clock, it is alive! Go mother nature green with your present with a natural-looking wooden timepiece that includes real moss. It is available in different body styles, moss colors, and sizes.
Admire the beauty of a simple flower with an intricately designed wooden clock. The face features beautiful geometric line art, a nice two-tone body style complemented by black and red arms.
Butterflies at your garden, butterflies in your stomach and now butterflies on your wall clock. The design features vintage-style illustration together with the habitat map location and their respective geeky scientific names. 
Beetle Illustration Postcard Set
When choosing a gift for any insect-loving biology nerd, trust us you can never go wrong with a print of colorful bugs. To be more precise, the Beetle Illustration Postcard Set by NaturePess.
This beautiful leg-filled set features 6 different eye candy original beetle illustrations by artist David Comerón, each one including the English and Latin geeky scientific names of each bug.
The postcards are printed on an eco-friendly recycled Cyclus paper and individually measures 4.1 by 5.8 inches or A6.
Do not let gift researching bug you any further, you have wasted enough time in this internet jungle, scoop these beetles with your plastic card and get it over with.
More biology styled stationery:
An ideal notebook for people who just cannot get enough of insects. The hardcover is filled with bug illustrations and measures 7 by 9 inches. Additionally, it uses 100 gsm art-quality recycled paper and printed using eco-friendly soy inks.
Catch any marine biology geek's attention, hook line, and sinker with a trendy zip case. The item is made of 100% recycled canvas and features diagrams of different kinds of fish and marine wildlife.
Now science nerds can add more botany into their geeky craft projects by slapping some plant-filled washi tape on them. It is 100mm wide and features hand-painted illustrations coupled with handwritten styled labels.
Give this syringe set a shot and make writing more fun with their playful shape and colorful designs. This lot includes 12 pieces of black ink pens in assorted body colors.
Simply because there is a specific glass for every nerdy occasion, a true biology geek whether it be a student, teacher or a full-pledged biologist must have the iconic Beaker Wine Glass from Periodic Tableware.
It is made of genuine laboratory-grade ISO/9000 3.3 borosilicate glass material, dishwasher safe and blends perfectly well with any lab equipment.
This gift is ideal for the classy but fun science nerd in your life, just add wine and observe how the party grooves.
Please note that each glass will be slightly different from one another since they been individually hand blown.
More biology themed drinkware:
How about a pint of science to go with that beer? Remind your geeky loved ones to not be too serious with work by mixing a little fun with the scientific. It features a design made up of different laboratory equipment in navy blue color.

Bottoms up, raise a glass to marine biology and drink your glass filled with microscopic critters; from bioluminescent plankton, jellyfish larvae to diatoms and krill. This glass is 5.75 inches tall and 3.3 inches wide.
Gift one of the trendiest microbiology tumbler with all the adorable microbes any biology nerd can wish for.  An ideal travel mug for the lab staple caffeine-rich coffee, calming herbal tea, and milky sweet hot cocoa.
Would you drink your cup joe on a regular mug when you can drink it from a ceramic mug filled with cool biology icons? Never settle for less when a nerdier alternative is available. Additionally, the handle is heart-shaped because why not?
I make Eww to Ahh Microscope Vinyl Sticker
There are a lot of things in life that you can only appreciate on a magnifying lens, sadly this is something that only a few microbiology nerds know.
Raise awareness and let people know what they are missing out in the form of a funny decal like TheForestCloak's I make Ewww to Ahh Vinyl Sticker.
The vintage-style illustration features a cool old school microscope paired with the catchy phrase in a typewriter font face. This 3.5-inch diameter sticker is printed on a 350 GSM 100% Polyester vinyl and yes it is smudge-proof.
Science geek or not, people need to know that there is beautiful life under the microscope!
More biology themed stickers:
Spread some much-needed science love and giveaway these I "anatomically correct" heart biology vinyl stickers. It comes in different sizes and has matte lamination for that extra UV and water protection.
Elementary science never gets old. Reminisce the good old classroom days with some 2.5-inch vinyl plant cell cross-section stickers. This thing is smudge-proof and screams I am proud to be a biology geek.
Slap some detail-rich stickers on anything you can get your hands on because the human heart is complicated and you need to let everyone know about it. Ideal for notebooks, laptops and pretty much anywhere anatomical love is needed.
Go all emo science nerd with this set of anatomy and flower stickers. The perfect combination of black and white illustrations and colorful flowers. Each one is made from high-quality PVC with scratch-resistant finish.
Blue Bee Xylocopa Careulea Specimen
Impress the insect geek in your life with ScriniumDaffodils' Blue Bee Xylocopa Careulea Specimen, taken all the way from Indonesia. This little wonder puts any preserved yellow bumblebee to shame.
The blue bee is encased inside a gorgeous glass dome that is about 10 cm tall and 6 cm wide, which can easily be opened by twisting its cork base away. It is presented with its purple wings spread and includes a cool handwritten vintage-looking label.
So you got some entomology blues?
At the time of this writing, the bees that are being sold were picked in 2018. Please note this piece ships all the way from France.
More biology-related specimens:
This green beauty is sure to be a hit for any insect collector and entomology fans out there, a real Lamprima Adolphinae. It comes with a vintage style label, cool glass dome, and a thick cork stand/lid.
Female botanists and nature lovers will love this unique piece. Gorgeous pink floral beauty inside a glass bottle, its essence preserved for eternity floating in oil, no care required. 
A little odd for many but definitely a prized possession for the nerdy others. Made up of beaver, coyote, porcupine, raccoon, snapping turtle and woodchuck claws, this beautiful set has everything you need to spar… scratch one's curiosity.
These quirky butterfly wings are a unique fun gift idea. Each one is enclosed inside a 7cm glass vial and properly preserved retaining their captivating rich vibrant colors.  Orders are randomly chosen and available in different sizes.
The science of biology is made up of different disciplines like anatomy, biochemistry, botany all the way to zoology. The number of subtopics that this general subject covers is vast and so are the products available for you to choose from. Make sure you pick the right one according to your recipient's specialty. 
And that is a wrap for our list of cool gifts for biologists, biology nerds, teachers, and students. We hope that this list has helped you find what you were looking for, if not we still have plenty of recommendations down below.