Cool Front Door Mats For Your Home
Only the Coolest Front Door mats for your Awesome Lifestyle
For anyone who is trying to spruce up the exterior of their home with attractive but still affordable front door mats, we have created this list to just for you.
There are a few investments you can make to ensure that your home is looking as prim and proper as possible. For one, outdoor furniture will lend a more laid-back appearance to the exterior of your home. While this furniture can certainly be attractive, you will find that it can be quite pricey.
Today, we are going to be looking at one of the more accessible options that can improve the looks of your house. You will know more about all that matters when it comes to front door mats, specially the advantages that they offer when used at the entrance to your home. To keep everything simple and efficient we have narrowed out our selection to the five of the best door mats that can be quickly purchased online.
Before we get to our reviews of the best entry door mats around, we are going to take a quick look at some of the reasons why it is important for you to invest in one of them. If you would rather get directly to the reviews, feel free to skip the next section, but you might get a better insight before your purchase if you read below.
Why Your House Needs A Front Door Mat
Most people are not aware that there are many different types of door mats, all the way from indoor door mats to outside door mats. But they are all quite essential when it comes to ensuring that your home remains a healthy, hygienic environment. This is the case for several reasons, some of which we will be going over before our reviews.
Consider the variety of all kinds of substances that you do not want to track into your humble abode when you first walk in. Even if you enforce a strict no-shoes policy at the entry to your home, there may be some moments when people do not have the time to remove their shoes or are just quickly entering and exiting.
You will want to opt for quality welcome door mats if your home is carpeted since anything that gets stuck on your shoes will be far harder to clean off of carpets than tiles or wood. Some of the substances that can end up in your home can even spread sickness or hurt the inhabitants of your home.
Also keep in mind the many different types of front door mats that can fit the needs of most customers, even if those needs are a little specific. For example, you can always opt for large door mats if you have a more spacious entrance to your home. Decorative door mats can add a touch of class to an otherwise sparse entrance.
There are many different kinds of front door mats that you can opt for, but you will find that customized door mats are one of the more tasteful options at your disposal. This is why we will be including a number of personalized door mats in this buyer review guide.
Our Top 5 Recommendations
1. GrassWorx 10371857 Clean Machine High Traffic Doormat
Specifications:
Features clean machine technology to improve dirt retention and cleanliness
Door mat features astroturf construction
Effective in both cold and hot weather conditions
Resistant to mildew and other conditions
Available in a choice of two colors: charcoal, and brown taupe
For anyone who is looking for cheap door mats, you will find few better options than this model from GrassWorx. It is unique when compared to other types of front door mats thanks to the material used in its construction. You will find that the choice to opt for Astroturf as a primary material was a smart one, however.
It is highly resistant to dirt build-up due to the incredible retention qualities of Astroturf. Unlike other door mats, you will find that this product is capable of holding about a pound of dirt and dust, so it does not have to be cleaned out as often if you want to ensure a clean home.
If you are not a fan of a front door mats' outdoor use, you will probably have to opt for a different model, since it is most effective when placed outside of your home thanks to the heavy dirt retention. The choice of two colors is also appreciated since it makes it easier to match your home's decor.
The heavy resistance to mildew and moisture also ensures that this door mat will never end up rotting or reaching a condition where it will be unpleasant to use. The astroturf construction also ensures that this door mat is far easier to clean off than most of the competition you will find.
While you may not think that Astroturf is the ideal material out of which to construct front door mats, give it a chance, and you will find that it is more effective than rubber and coir in some ways.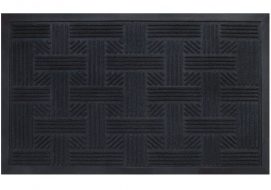 If you are looking for a similar doormat which is both innovative and highly durable but with a different design compared to Grassworx, you may find that this is the right choice. This door mat features a low profile design so it can easily fit underneath doors but it is also highly versatile, which makes it ideal for use outdoors.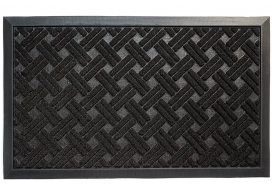 An excellent choice for customers who would like a door mat which is easy to wash but still does a good job of trapping and retaining dirt. The indentations on the top of this door mat make it ideally suited for cleaning your shoes of either dirt or water. This door mat also features a more subdued design which goes well with most home decor.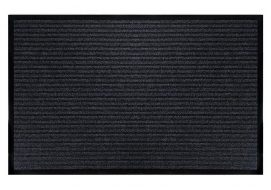 One of the more popular products in its category due to its low price point is this  door mat from Fasmov. If you are looking for the door mat which provides the best value for your money, you have few better options than this model. While it may be affordable, it is also highly durable, like our other alternatives.
2. Apache Mills Masterpiece Aberdeen Welcome Door Mat
Specifications:
Has a heavy-duty construction, made of recycled rubber
Top surface is made of flocked fiber
Design includes surface channels for better drainage
Stain resistant construction
Meant for use outdoors
This is one of the more durable models of front door mats that you will come across, so if you are looking to ensure that your door mat lasts you longer than most of the competition, this is the best choice. The recycled rubber which is used in this product's construction is of higher quality than one would expect.
Designed to be employed outside of the home, this door mat's  added durability manages to help it immensely. The recycled rubber which is used in this door mat has a few other advantages when you compare it to similarly priced models. For example, it is highly resistant to stains.
Its added recycled construction bonus also makes this cool front door mat far more ecologically friendly than most of the competition. While this feature may not provide as practical of an advantage as some of the other aspects, some customers may prefer to support companies that care about our planet.
The molded channels in this door mat ensure that you will not have to deal with drainage problems. There are few things more irritating than a doormat which retains too much water and is either too slippery to step on or makes a hideous squelching sound when you walk over it.
If you are looking for a door mat which is not too eye-catching but still features a classy, subdued design, this is an excellent choice. It tends to complement most styles of homes, though it may be a little out of place with more modern architecture.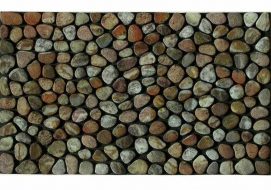 Definitely the most reliable door mat compared to the other options that you have which comes in a pebble style. Pebble front door mats are both attractive and functional as the pebble design allows for drainage channels. This ensures that you will never have issues with water pooling or dirt being stuck on top of the mat.
Buy on bedbathandbeyond.com
J&M Home Fashions' doormat is one of the more realistic looking pebble door mat compared to the others on this list. If you prize form as much as you care about fashion, you will find that this is an excellent choice. It even comes equipped with a skid-resistant bottom to ensure that the door mat does not slip while in use.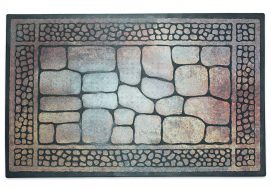 Buy on bedbathandbeyond.com
Perhaps this one is the most reminiscent alternative to the pebbled Apache Mills model which we looked at in further detail. Featuring a pebbled border design, you will find that this classy door mat will catch the eyes of your guests. It is also larger than most other front door mats you will come across.
3. Masterpiece Home Stones Door Mat
Specifications:
Made of recycled rubber made to heavy-duty specifications
Its top flocked surface helps brings out the colors of the design
Includes an irrigation channels in the surface
Quality backing with rubber reinforcement
Features a water absorbent surface which is intended to clean off your soles
Capable of both indoor and outdoor use
While custom and personalized door mats tend to have an advantage concerning their bespoke styling, there are still some basic options which are highly effective. This product from Masterpiece is one of those options, featuring a highly resilient recycled rubber construction, like the previous door mat we reviewed.
It features surface irrigation channels, which are highly effective when combined with the highly absorbent material used in this door mat. The material absorbs the water and liquids which are on your shoes and then the irrigation channels ensure that the water is drained and dispersed.
The inclusion of a reinforced rubber backing ensures that this door mat will last you a longer time than the competition. One of the main points of failure on average front door mats is the backing, which tends to fall apart, even if the mat itself stays together, there is little use for a durable mat when the backing fails.
A highly versatile door mat since it can be used in either outdoor or indoor applications. Due to the attractive design as well as the durable materials used in its construction, you will find that this door mat is an excellent choice for most customers, regardless of where they intend to place it.
Thanks to the design of this door mat, you will find that it fits in quite well with stone pathways. If you are looking for a door mat with a unique aesthetic but durable enough build quality for extended use, there are few better options available than this model from Masterpiece.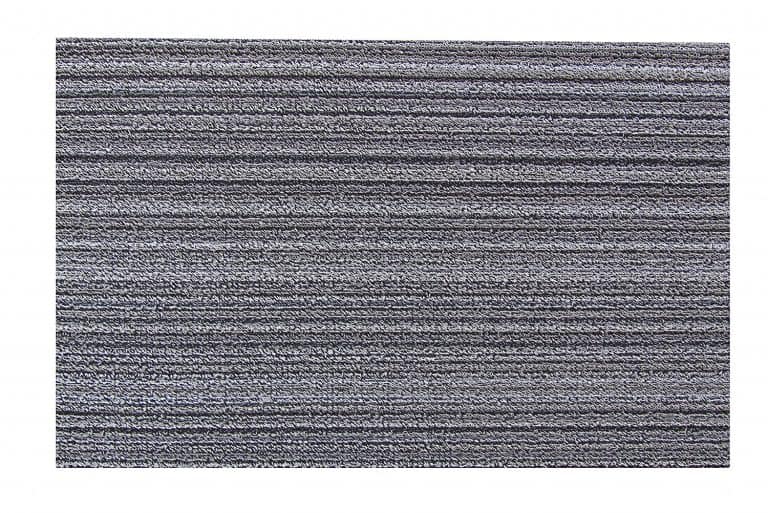 Our first alternative is similar to the primary product in that it can be used in either indoor or outdoor applications. This door mat is available in a choice of eleven colors, so you can opt for the one which goes ideally with your home design and decor.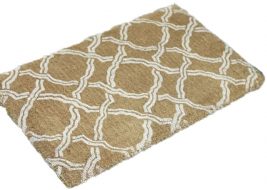 With a relatively subdued design you may think it is just another regular door mat, but the light colors make it ideal for use in areas without too much rain, which will ensure that it does not get discolored. This door mat can be used either indoors or outdoors, and it is durable enough to last you a reasonable period.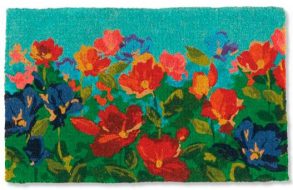 If you want another highly versatile model of door mat, you have few better options than this beautiful piece. It is very lively and contains colorful a patch of wildflowers. While the design may grab a little bit too much attention for some buyers, if you want something which is unique, this is a great option.
4. Fox and Clover Custom Last Name Door Mat
Specifications:
100% coir construction for added durability
Handpainted design on the top
Dimensions of 18 inches by 30 inches
Easy to clean and maintain
For any customers looking to buy personalized, custom front door mats, you will find that this is one of the most popular models available on Etsy. This door mat may seem simplistic, but this is part of its charm. It also helps lower the price range, as a monogrammed front door mat can tend to run high in terms of price.
The size is adequate, at 18 inches long and 30 inches wide, which makes it well suited for most entry points. If you have an entry which features double doors, you may wish to opt for a larger door mat. The choice to construct this mat out of coir was a smart choice, however, for a number of reasons.
Coir is much easier to clean and maintain than many other materials, but it still requires a little more maintenance than you would find necessary in a rubber door mat. The cleaning process is still quite simple, but you will want to ensure that you do not scrub away the custom decal featuring your family name.
Speaking of the handpainted design, we were quite impressed with the workmanship. While many personalized front door mats tend to look less professional, this product seems as if it would not be out of place in a home decor catalog. The lettering is precise and positioned correctly, and it is quite durable.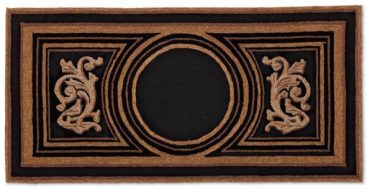 If you are looking to buy unique front door mats might as well grab one that can be customized, like the main product we reviewed, there are few better choices than this model. While it may be more expensive than some other models, you will find that it is well worth the price as it is available in a variety of colors and features excellent build quality.

Here is another option for a monogrammed door mat that will provide equal quality, you will find this model from Grandin Road quite attractive. It is available in four different sizes, which allows you to find a model which is ideal for your needs and the size of your entrance.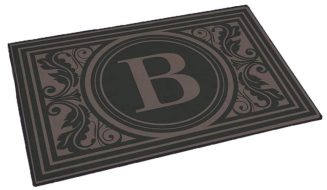 This option features a dye sublimation print which ensures the superior durability of the monogram over other options. You will find that the Durgan rubber backing ensures that you have no issues with grip and allows the personalized door mat to be used either indoors or outdoors.
5. WithLoveAndLuxe Custom Door Mat
Specifications:
Made of coir for added strength and ease of painting
Custom lettering is made of highly resilient outdoor paint
Backing is made of sturdy PVC
This product takes around one week to be made in addition to shipping
Our next review will be covering another one of our favorite custom door mats. These can be used as inside door mats, but they are primarily intended for use outside of the house.
While the previous personalized door mats we reviewed were designed to be adorned with a family name, this product can feature any custom message which is short enough to fit.
The PVC backing of this door mat is strong and reliable, but it may be a little more rigid than you expect, so if you are looking for a more flexible door mat, this may not be your ideal choice. The aspect in which this door mat shines the most, of course, is in the custom messages which can come written on it.
Strong outdoor paint were used by the manufacturer of these door mats to decorate them, so you can rest assured that your custom message will not wear off anytime soon after your purchase. The calligraphy is impressive, and it is quite easy to tell that these front door mats are made with care.
As with most coir door mats, you will find it relatively straightforward to clean it off and maintain it. While it may not last as long as a rubber door mat, coir tends to make for a more affordable product, especially when it must be painted with a custom message.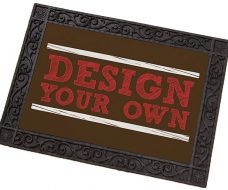 Buy on personalizationmall.com
If you want one of the more affordable options for a personalized door mat, this may be the best choice for you. You will find that the low price point will not diminish the build quality of this custom door mat. It even features a rubber backing which will ensure that you don't slip and fall in poor conditions.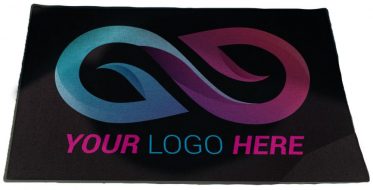 Unlike the other models of custom door mat that we have reviewed, this model features a logo instead of lettering. This means that you will need to provide a logo that you want to be printed on the front of this product before making your purchase. The door mat itself is well built and reliable enough to last.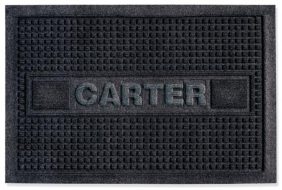 Our next custom door mat is a somewhat unique option in that your lettering is not painted onto the door mat, but instead integrated into its construction. This personalized door mat is optimized for use in environments where there is often heavy rain or other poor weather that can compromise other models.
We hope that this list guide has helped you find the best door mat for your needs. From custom door mats to more conventional options, there is a wide variety of choices, and it can sometimes get a little overwhelming. We have tried to review a varied group of products that all feature excellent qualities of their own.